Adventurous Kate contains affiliate links. If you make a purchase through these links, I will earn a commission at no extra cost to you. Thanks!
May was the month Charlie and I had been waiting for. This is the month that we celebrated our big wedding in Prague. The month our friends and family descended upon our adopted city. The month we celebrated harder than we ever have.
And it was so, so good.
Here's what went down — along with a sneak peak of the first professional wedding photos!
Destinations Visited
Karlovy Vary, Loket, Prague, and Český Krumlov, Czech Republic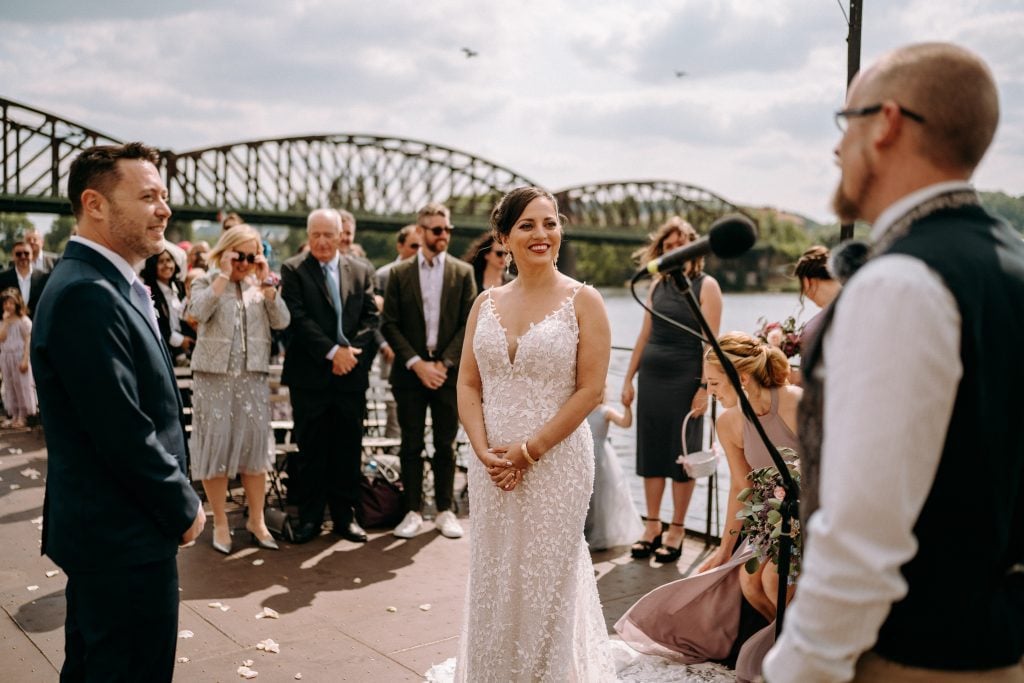 Highlights
The wedding, the wedding, the wedding! Honestly, it all went SO well. Charlie and I didn't realize until it was in full swing that we essentially threw a travel blogger conference, just with no educational value whatsoever!
We initially ended up planning three days of wedding revelry for our guests, and it quickly turned into five days of organized events.
On the first day, the wedding eve eve, we invited our friends to hang out at the pizza fritta and beer festival at Dva Kohouti and Bufet, two cool venues in our neighborhood of Karlín. The evening churned along, Charlie went off to his bachelor party, and our friends took me out for "Kate's stag do" at Lokal!
On day two, six of my ladies joined me for a bridal luncheon at CottoCrudo at the Four Seasons, which puts on a fantastic three-course business lunch with a view of the castle (one of my favorite unusual things to do in Prague). After that, I dropped them off for a walking tour of Prague that Charlie arranged for our guests.
That evening was our welcome dinner at Manifesto Market, the coolest outdoor food hall in Prague, with lots of great food and drinks! It was such a fun evening. And a lovely surprise was that two friends I made in Antarctica, Bob and Barbara, were passing through Prague that day — so I invited them and they came! It was so nice to see them again and introduce them to my loved ones.
Then the wedding day! The ceremony took place in the afternoon at A(void) Floating Gallery, a moored boat on shore overlooking the castle in the distance. After the ceremony, we had a cocktail hour on board, then our guests boarded a historic wooden tram with open windows to take them on a 40-minute scenic tour of Prague before taking them to the reception. In the meantime, the wedding party rode in a hummer limo!
The reception was at Arthur's Pub, a wonderful upscale Irish pub in our neighborhood. The outdoor area was absolutely idyllic — it barely needed decor at all. And the staff were beyond fantastic — they loved us as much as we loved them.
Everyone kept raving about how good the food was, the cake blew our minds, and the band, Tram 69, kept everyone dancing until late! (Also, cops showed up at some point.)
The next day, we hosted people for a casual lunch at Cafe Frida, a Mexican restaurant in our neighborhood. We brought the flags and enjoyed everyone's company, then FINALLY Charlie and I went home to crash, snuggle the cats, eat leftover schnitzel and tiramisu, and watch Below Deck.
The day after that? French food and Prosecco festival across the river, with more of our guests! And that evening, we took a bunch of folks out to Kantyna, our favorite place in Prague and where we went after our elopement.
I will be doing a full post about the wedding once we have all the professional photos! Our photographer Teru Menclova sent us several already as a preview.
PERFECT WEATHER ALL WEDDING WEEK. Seriously. It's so unusual to have weather THAT good for THAT long in Prague, but it was absolutely perfect. I'm so glad we decided to have the wedding in late May!
No COVID cases post-wedding. We asked everyone to test before traveling to Prague and on the morning of the wedding, handing out tests at the dinner the night before (they're still around $1 each in Prague, which REALLY should be the case everywhere), and kept almost all of the wedding events outdoors.
Welcoming my friends and family to Prague. The wedding, of course, was the main event, but it was really nice to show pieces of our Prague life to our loved ones. I love that we got to bring people to one of our favorite festivals of the year, Pivo a Burger (beer and burger).
We brought friends to our favorite cocktail bar, Bugsy's Bar, and of course we took everyone to our favorite butcher shop, Kantyna. And it was great seeing my friends visit many of our favorite Prague restaurants — Eska, Field, Naše Maso, Lokal, Manù, and Krystal were among everyone's favorites.
It was especially nice welcoming my friends' kids to Prague — and their parents realizing what an amazing place Prague is to have a kid. So many festivals. Unlimited chicken schnitzel.
A quick trip to Český Krumlov. I hadn't been to Český Krumlov since December 2019, and it was so nice to return and show a different part of the Czech Republic to my mom and her partner Tom. What a great visit! Krumlov is a lovely little town, and it was such a different place in the spring!
Everyone was out rafting and taking boat trips (including one bachelor party with a blow-up doll in tow). I really want to return to go rafting! And now I'm convinced that maybe one night isn't enough…maybe it would be nice to go for two whole nights sometime.
We also finished our first mini-moon to Czech spa town of Karlovy Vary on the first day of the month, visiting the pretty town of Loket on the way back.
Food festivals galore. Man, summertime in Prague is SO good. It's so nice knowing there's a cool food festival every weekend! We also got to attend one of our favorite events of the year, the catalogue party at The Italians Wine and Food Market, where food vendors come from all over Italy to share their wares with Prague foodies.
Murray started pooping in the litter box again! Man, that took some time! What finally worked was adding another litter box in another room. Once he had more options with privacy, he felt comfortable pooping in the box again.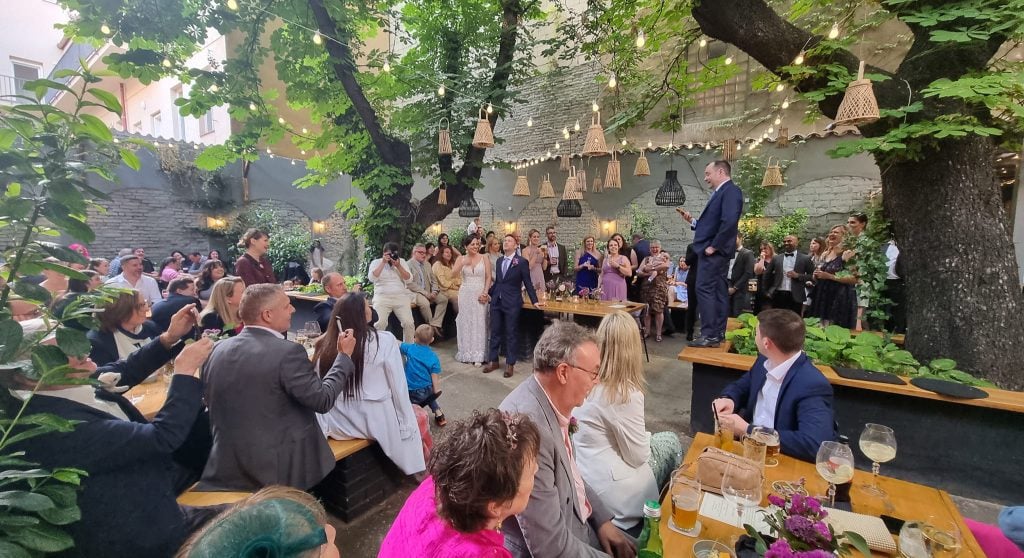 Challenges
Some wedding snafus, but nothing too bad. We forgot to bring the flags to the ceremony. The gluten-free nut-free desserts got put out early and everyone ate them ahead of time. The flower arch moved from the ceremony to the reception was supposed to be an Instagram spot for everyone, but that section of the outdoors turned into the "kids' corner," so nobody went up there!
Overall, these were very small things. Unfortunately a few of our guests weren't able to make the wedding due to a last-minute strike at Heathrow, which was sad, but aside from that, just about everything went to plan.
I DID NOT SLEEP the night before the wedding. I slept from 12:30-1:30 AM, then woke up and COULD NOT go back to sleep. I tried everything — meditation, CBD, push-ups, sleep podcasts, a walk around the neighborhood. Nothing worked. And I started freaking out. How could I do this day on a single hour's sleep?
I posted on the wedding planning subreddit in a panic. And those brides gave me SUCH good advice. They emphasized the importance of just resting if I couldn't sleep, to take it easy on the alcohol and caffeine, and adrenaline would carry me through the day. They were right.
In the end, I was able to squeeze in another nap from 7:30 until 9:15, and I made it through the day just fine.
My credit card got stolen the week of the wedding. That hasn't happened for a few years. Sigh. At least CapitalOne sends replacement cards internationally without getting them stuck in customs (looking at you, Schwab).
Murray got sick. He started randomly vomiting and kept throwing up, so we took him to the vet. It seems to be hairball-related, and we need to feed him hairball management food from now on.
Unfortunately, one of us needed to keep an eye on him, so Charlie stayed home from Český Krumlov and I took Mom and Tom on my own.
Having to RUN LIKE MAD for a train in Ceske Budejovice! Trains from Krumlov were late, but they usually hold them a bit so you can make your train to Prague. We had to jump off and RUN to make the train, and we made it with 30 seconds to spare. Glad I got to show my mom that quintessential European experience.
Blog Posts of the Month
What NOT to Do in Prague — I love this post. The definitive guide to read before visiting Prague!
Which of the 6 Martha's Vineyard Towns is Right for You? An overview of the six towns in Martha's Vineyard, which each have their own personality and style.
30 Stunning Mediterranean Islands to Visit Once in Your Lifetime — From Ibiza to Crete, from Corsica to Hvar, here are the most beautiful Mediterranean Islands to visit someday!
This Month on Patreon
On the Adventurous Kate Patreon, I publish exclusive content and never-told stories that you can access for $6 per month. We also have a private Facebook group and members get free access to the Book Club each month.
This month did end up being a wedding-heavy month! I shared the full album of our elopement photos as soon as they came in (haven't shared any publicly here except on Instagram, but I plan on blogging about the elopement at a later date and will share then).
I also shared some early insights after the big Prague wedding — including what I am VERY glad we did, and a few things we could have done better.
(One thing I'm especially glad about is deciding on Azazie bridesmaid dresses in five coordinating but different colors and five different styles, all long and chiffon. It kept everyone looking cohesive but in styles that flattered them!)
Book Club This Month
Our next book club will actually take place in August — on Sunday, August 13, at 7:00 PM ET. We will be reading In the Shadow of the Mountain by Peruvian author and adventurer Silvia Vasquez-Lavado.
"Endless ice. Thin air. The threat of dropping into nothingness thousands of feet below. This is the climb Silvia Vasquez-Lavado braves in her page-turning, pulse-raising memoir chronicling her journey to Mount Everest.
A Latina hero in the elite macho tech world of Silicon Valley, privately, she was hanging by a thread. Deep in the throes of alcoholism, hiding her sexuality from her family, and repressing the abuse she'd suffered as a child, she started climbing. Something about the brute force required for the ascent—the risk and spirit and sheer size of the mountains and death's close proximity—woke her up. She then took her biggest pain as a survivor to the biggest mountain: Everest.
'The Mother of the World,' as it's known in Nepal, allows few to reach her summit, but Silvia didn't go alone. She gathered a group of young female survivors and led them to base camp alongside her. It was never easy. At times hair-raising, nerve-racking, and always challenging, Silvia remembers the acute anxiety of leading a group of novice climbers to Everest's base, all the while coping with her own nerves of summiting. But, there were also moments of peace, joy, and healing with the strength of her fellow survivors and community propelling her forward.
In the Shadow of the Mountain is a remarkable story of heroism, one which awakens in all of us a lust for adventure, an appetite for risk, and faith in our own resilience."
You can learn more about the book and buy it here.
You can sign up to attend the book club here. Hope to see you there!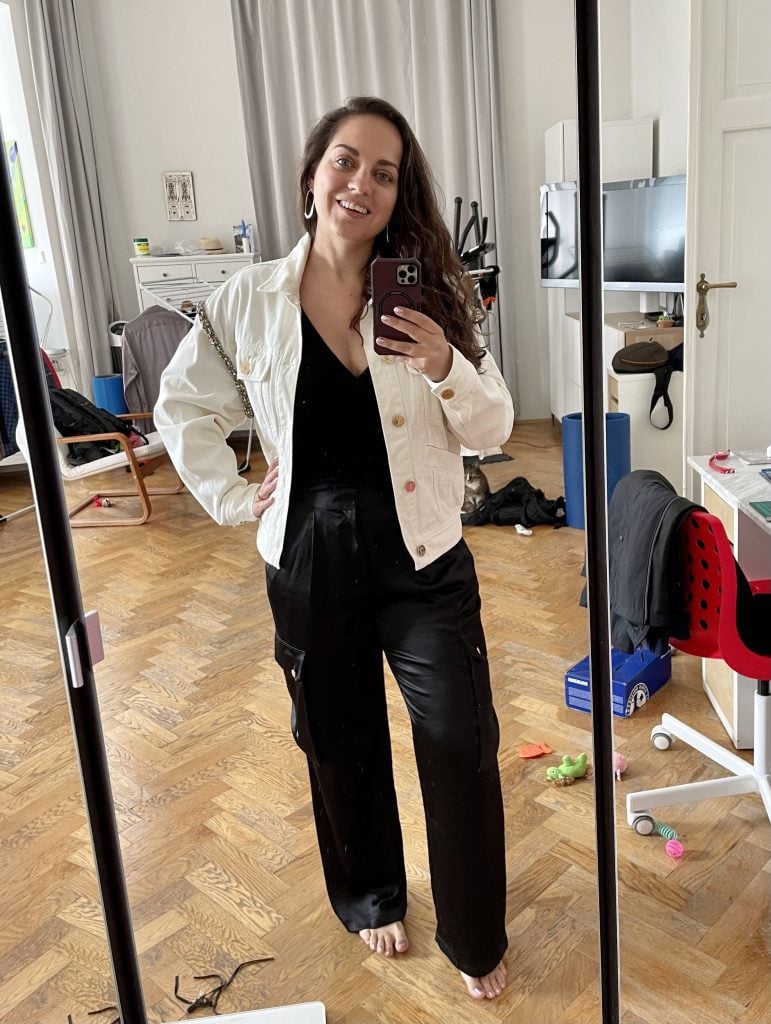 Fashion Find of the Month
I've been eyeing this Sandro denim jacket for a few months now. It's a bit unorthodox, and quite trendy…but you don't always have to buy something you'll wear for a decade! Where else can you find a bedazzled armpit?
I first loved the black version of this jacket. It was crazy-expensive, so I bid on it on eBay. Didn't win the auction. THEN I found the same jacket, but in white, and for a FRACTION of the listed price.
So I got it! Still trying to figure out how best to wear it. I can't find it in white anywhere anymore, but you can get it in faded blue denim with rainbow rhinestones here and in black denim with gold rhinestones here.
Side Projects Update
With so much going on with the wedding, not much got done on my non-AK work this past month. But I did get some good news! This is my first year running Mediavine ads on New Hampshire Way during high season, and traffic took a massive upturn leading into Memorial Day Weekend!
This has me feeling hopeful about how the site will perform over the next few months. Summer is high season in New Hampshire — but PEAK season is in early October for foliage!
Most Popular Reel on Instagram
I want you to know that I have been making major changes on Instagram lately, posting lots of fun Reels about different travel and life content. I would love to have you follow me at @adventurouskate!
My most popular Reel of the month was all about how I chose what to wear for our elopement in April — along with professional photos from that day. I wanted a vintage mid-century look and found the perfect items from a few vendors online.
You can see it above!
What I Watched This Month
This month, I watched Succession in its entirety: all 39 episodes. I watched a few episodes some months ago, but Charlie wasn't really into it, so we stopped. I wanted to pick it up again and catch up by the finale, so I studiously binged. An episode on the elliptical each day; an episode before bed; an extra episode where I could squeeze it in.
I love Succession — it's brilliant and well-deserving of all its awards (though I hope some of the as-yet-unrecognized actors like Kieran Culkin and Sarah Snook finally win their Emmys this year). But I do NOT recommend binging Succession! It's a dense show, with so much drama and wordplay. You need to watch an episode and let it marinate.
Below Deck update: This month, Charlie and I finished Below Deck Down Under and began Below Deck Sailing Yacht: Season 2.
So far I can say that these two seasons have two of my favorite casts. They really did the casting well (and it was a SMART decision for Sailing Yacht not to bring back any of the people from awful Season One).
As much as I love Aesha from Down Under, Daisy from Sailing Yacht might be my favorite chief stew ever. She's great at her job, she actually trains her stews instead of just complaining about them all the time, and she's actually a nice person you'd want to hang out with.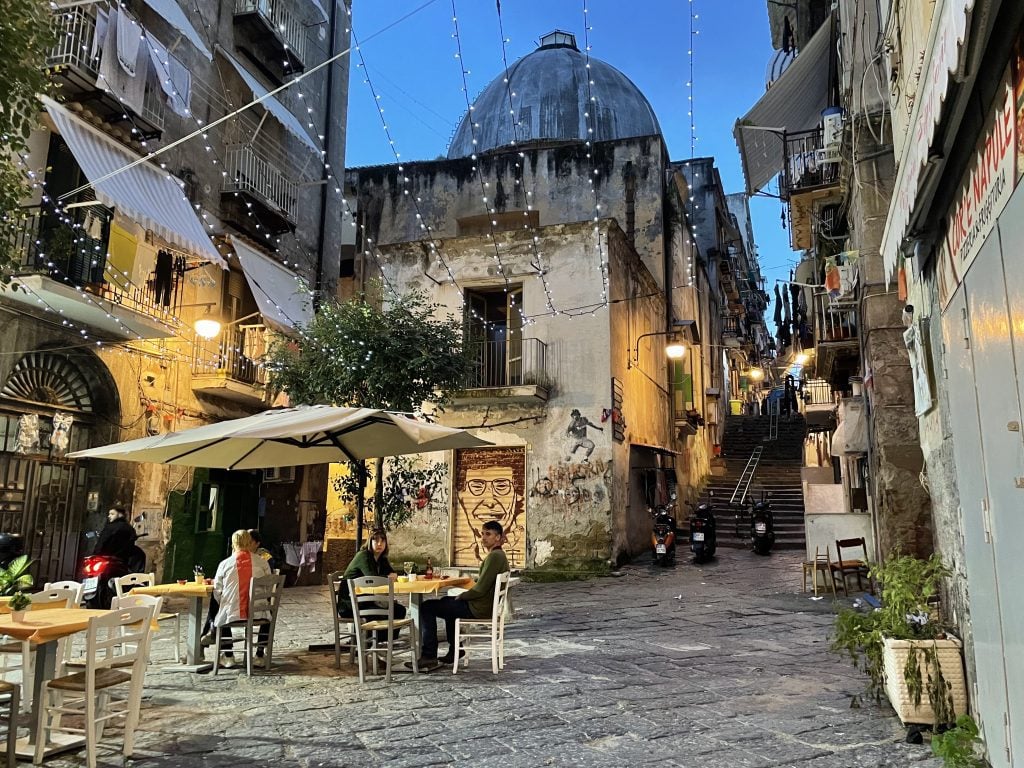 Coming Up in June 2023
We are starting this month with an Italian mini-moon — Charlie and I are heading to Ischia and Naples for a few days! I've never been to Ischia before — it's an island off the coast of Naples — but Charlie has.
We will be enjoying summer on the Italian seaside as we always do, with fritto misto and spritzes, and we plan to do a bit of hiking, relax at a spa, enjoy the beaches (some pivotal scenes from Elena Ferrante's Neapolitan Novels take place on Ischia's beaches!), and have a big dinner at a agriturismo. Despite being an island, rabbit is actually the popular dish of Ischia!
We will be bookending Ischia with time in Naples — which you might recall was my favorite new destination of 2022. We definitely plan on hitting up our favorite pizza places!
After Italy, we'll be in Prague for a bit, and we are now fully in food festival season. The Prague Ice Cream Festival is one I'm particularly looking forward to.
At the end of the month, we are flying to Boston for our third wedding! And we are flying in business class on British Airways, which I've never done long-haul before. The wedding itself is taking place in early July and wow — we have a LOT more planning we need to do!!
What's planned for you this month? Share away!
Get email updates from KateNever miss a post. Unsubscribe anytime!