Sara Ramirez' Che Diaz, a nonbinary comedian character new to the franchise, was brutally ridiculed and trashed by fans in her first season, inspiring showrunner Michael Patrick King to put the character through a similar arc in Season 2.
Sometimes life imitates art and sometimes art imitates life. That's what happened on the latest episode of "And Just Like That," as Che Diaz (Sara Ramirez) witnessed a brutally vicious focus group reaction to their new sitcom.
Ripping on Che was definitely ripped directly from the "Sex and the City" fandom as the comedian character was one of their favorite punching bags throughout the first season.
The nonbinary character was a clear effort by the show to course correct from the original's unrealistic lack of diversity. The problem is that in many ways Che was unrealistic as a human being.
And Just Like That's Sara Ramirez Is 'Very Aware of the Hate That Exists' for Che Diaz

View Story
Not that Ramirez was playing the character poorly, but rather how they were written on the page. It was reminiscent a bit of "Studio 60 on the Sunset Strip" in that it featured "comedy" writing that just wasn't funny. Like "Studio 60," it was clear that not-funny writers were writing Che's stand-up material, and it only further distances them from the audience and reality.
All of this led to an outsized outrage about the character that the show is now directly responding. In fact, showrunner Michael Patrick King said that reacting to fan reaction to the show is the plan.
"A lot of season two is an address to the reaction to season one in my thought process," he told Entertainment Weekly. "I didn't see one tweet and go, 'Oh my God, I've got to change everything'. It's a zeitgeist feeling."
That applies to the character of Che, as well, with King telling TheWrap that their approach to the character in this season was "to start with the reaction to what Season 1 of Che was, which was judging a book by the cover."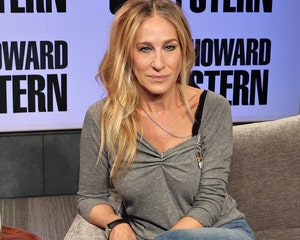 Getty
Sarah Jessica Parker Reveals 'Only' Concern with SATC, Says She 'Missed Out' on Facelift

View Story
King said that he took a step back to try and figure out all the Che hate because, as we noted, Ramirez wasn't failing as an actor. "So I was like, 'Okay, where is this coming from?'" King said. "And what do we do with it?"
The solution, as King saw it, was to knock Che down a peg, take them from the cocky and confident person who turned Miranda's life upside down and always seemed to be cool and in control and … upend every bit of that.
"Michael Patrick King and I had a meeting before Season 2 even started, and we both agreed that it would be so exciting and interesting to see Che confront a system like Hollywood," Ramirez told TheWrap, a place where "the most authentic version of themselves is not welcomed."
Thus, Che's journey to turn their stand-up into a sitcom which culminated in Season 5's savage focus group takedown. "I've been in many, many focus groups, and there's always some wounding that happens in there," King said. "But what we really wanted to talk about was the fact that sometimes what you're trying to do is not reflected, even by the people that you think you're doing it for."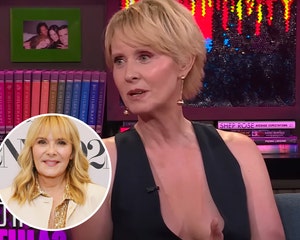 Bravo
Cynthia Nixon Talks Odds of Kim Cattrall Returning After 'And Just Like That' Cameo

View Story
Che's moment of reckoning wasn't even being called a "walking Boomer joke" by another nonbinary person, but rather having their life story dismissed as a "bulls— version of what the nonbinary experience." Creating art is personal so having your art trashed can't help but be just as personal.
None of this, though, should be seen as hate for Che from Ramirez or King. Rather, he thinks the character is representative of what "SATC," and now "AJLT," are all about. In particular, he describes the core of the shows as being "the individual versus society." For the original series, it was "the single girl versus society."
Now, in many ways, Che is that individual. The society now just happens to be the very real society that's more than willing to share their opinions in real time on the focus group that is social media.
New episodes of "And Just Like That" drop every Thursday on Max.