On the latest episode of The Kardashians, Kourtney summoned Kim to another meeting in an attempt to get to the root of their ongoing issues.
Oh, did you think that The Kardashians drama between Kourtney Kardashian and Kim Kardashian was over? Think again!
ICYMI: Kourtney previously accused her sister for copying her by taking a partnership with Dolce & Gabbana, before calling her out for putting business deals over family. While the two seemingly hashed everything out two weeks back, that conversation apparently left Kourtney with some lingering questions she felt she had to address with her sister in the new hour.
This time around, Kourtney called both Kim and Khloe Kardashian over for another discussion, explaining in a confessional that she "really took the time to think about the conversation and I just had so many thoughts about it and thought we could go deeper." As for why Khloe was there, Khloe believed she provided "emotional support" and acted as a quasi-translator for Kourtney, who, she said, was "not always great with articulating herself the way she would want to."
Waiting for your permission to load the Instagram Media.
Kourtney was very prepared for this conversation, reading her previously-written out thoughts straight out of a notebook. As Kim and Khloe sat down, she said she just hoped to get to a place where they all cared about each other "enough to be concerned about our feelings."
"My purpose in having this second talk and not just avoiding it is that I do want to have a relationship with my sisters," she added in a confessional. "I want it to be a relationship where we are cared about where our feelings matter and I just want a more meaningful relationship."
Kourt said that she didn't want to re-litigate the past, saying that the conversation was about "moving forward" and understanding how she doesn't "feel cared about when I'm overlooked or my feelings are overlooked." While Kim agreed that it should be "family over everything," Kourtney said she didn't think her sister "really understands what's driving" her — adding, "and if you don't understand what's driving you, you're not the master of your mind. And knowing what drives you will lead you to your happiness and joy."
Shanna Moakler: 'I Have My Own Personal Reasons for Not Liking the Kardashians'

View Story
Kim said one of her driving factors in life was never wanting to have to depend on anyone else, something Kourtney pointed out that she hasn't had to do for "many years" thanks to her wild success. Again, she then asked Kim, "What continues to drive you?"
This time, her sister said that coming up in reality TV came with a lot of doubt and hate from the public, something which led to her very competitive nature. "I definitely love to prove other people wrong," she continued, "For sure, the drive I have is, 'Okay, I want to build this really successful business, I want to build another one.' That's just who I am, but it's only against myself."
Kourtney then said how important it was to be self-aware, defining the term for her sister before adding, "I like love self awareness." As Kim said she knows she's competitive, Kourtney said the sisters were clearly "driven by different things" — something Kim felt was okay, as "we're different people."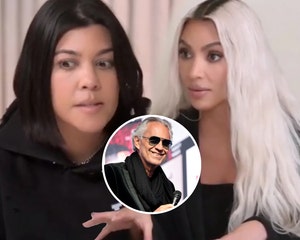 Hulu/Getty
Andrea Bocelli Reacts After He's Dragged Into Kim And Kourtney Kardashian's Nasty Feud

View Story
"I'm not here to analyze you," said Kourtney, who had kinda done just that, "it's just about telling each other what we need to feel cared about."
After telling both Kim and Khloe they were "like one of the most important things" in her life, she was done, telling them "that was it," before saying she had to go meet up with Travis Barker. Yes, it was a pretty abrupt ending to a conversation Kourtney orchestrated, but Kim felt good about it after.
"I appreciate that I'm having this conversation with Kourtney and I don't want to fight with my sister," she said in a confessional. "I want her to be by my side, let's talk about it and let's move on."
Hopefully, this time they really can.
New episodes of The Kardashians drop Thursdays on Hulu.